The following photographs are accompanied by a brief history and description of the specimens' origin. From the most common to rare, and strange we hope you will enjoy this unique collection.

ALBITE WITH CHLORITE INCUSIONS: CALAVERAS COUNTY

Violet Vesuvianite
El Dorado County, California, USA
The January 1936 AMERICAN MINEROLOGIST article says that Vesuvianites were mined and sold to Tiffany & Co. in New York as gem for their jewelry and were marketed under the name California Emeralds. The green gems have also been referred to as El Dorado Emeralds. Specimens were available to mineral collectors in the twenties and thirties. Crystals of vesuvianite among other minerals have been collected from this unusual Sierra Nevada Serpentine Belt in the forests of the Georgetown District (better known for gold). The locality is at a confluence at Traverse Creek. There is an active quarry (Bear Creek) on the North side of the old claim. Literature exists that refers to the claim as a chromite mine as well. Also of interest to mineral collectors are the rarely occurring clear and colorless grossular garnets.

California USA Manganvesuviate For Offer / Vesuvianite Violet Crystals for Sale / V Minerals Photo Gallery CLICK HERE <ô¿ô

GEODE: Contra Costa County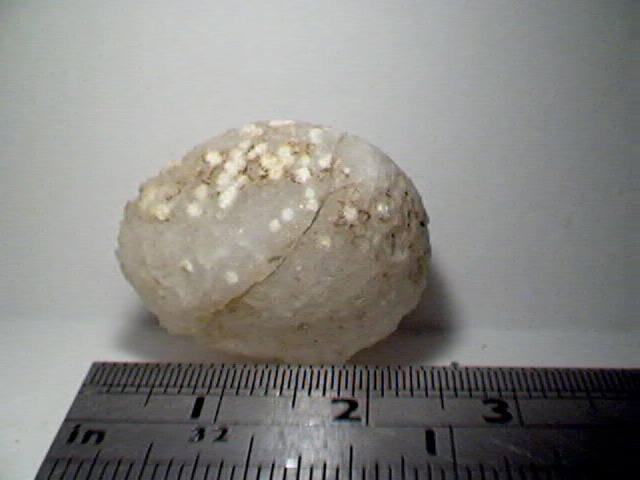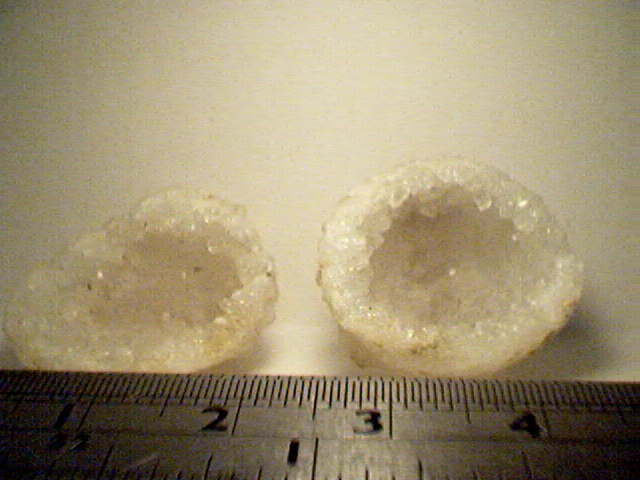 Geodes, near Berkeley? Well, it's a little known fact that there is an extinct volcano in the Oakland Hills called Mount Sibley. There are several minerals in the flows of this ancient volcano including Zeolites, Calcite, Pyroxene Andesite, Opal, and light blue Agate, which some locals call "Berkeley Blues". It is wonderful collecting here not only for the minerals, but for the exquisite views of
San Francisco and bridges to the West and Mt. Diablo in the East. The lower picture shows a surprise, the geode opened up to reveal lustrous quartz crystals lining the shell.
QUARTZ WITH CHLORITE
CALAVERAS COUNTY

This Quartz Crystal, optically clear with beautiful Mossy Green Chlorite inclusions creates a picturesque landscape. This specimen was found in the Glory Hole District near Angels Camp, Calaveras Co., CAL USA. This area was quickly named "The Great Surface Crystal Vein" due to the abundance and variety of quartz crystals it produced in a disorderly layout about the surface at this locality. We collected here at depths of no more than two feet during the drought of the late eighties. Unfortunately, this location is now under water and can't be accessed without SCUBA gear. The crystal is palm-sized, about 2.5 inches long. (close to the color of this text). Both front and back are shown in the pictures.
CALIFORNIACRYSTALCONNECTION.COM <τΏτ
Cerian Vesuvianite
Ca10Mg2Al4(SiO4)5(Si2O7)2(OH)4
LOCALITY: San Benito Co., CAL USA
NOTES: Unique 11cm matrix with 1cm crystals with melanite garnet collected by the precious gem fancier Steve Perry and Rick Kennedy.

FLUORESCENT CALCITE, HAYWARD, CALIFORNIA
This High Caliber Calcite specimen was found no more than 5 miles from our homes at La Vista Quarry in Hayward, California. It fluoresces an orange-pink color with bright yellow highlights. At almost 3" long, it is the largest complete and lustrous specimen of these quality gem faces we have ever seen from this location. The area this was collected has been excavated and no longer exists. Unfortunately it is not permissible to trespass here. This a unique sample.
$250.00



Quartz Cluster SiO2
Calaveras County, California
USA (c)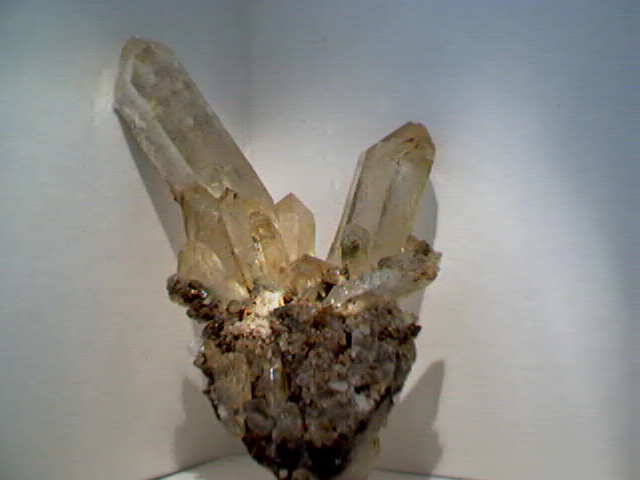 This Gem Quartz Cluster, which stands almost 4" tall, contains at least 7 sharp crystals and some of the points contain Green Chlorite inclusions. It was found in the early nineties at the old Southern Pacific Railroad tracks, at Central Hill, east of Valley Springs in Calaveras County . When the RR tracks were installed in the early thirties, the workers made cuts in the rock leaving veins of good material exposed. This location gave us only a few years of good collecting due to an avalanche which buried the exposure. The RR tracks have since been removed and the property was closed by the current property owner.
Quartz Cluster, Calaveras Co., California
BI-COLOR TOURMALINE: HIMALAYA MINE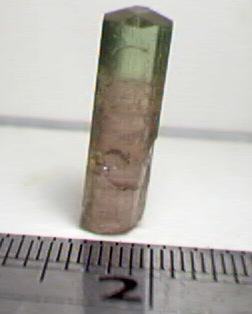 This bicolor gem was found on our summer trip to the Himilaya Mine in Mesa Grande, California. It is only one Centimeter but completly terminated with a tip and very gemmy.

QUARTZ CRYSTAL, BUTTE CO. CALIFORNIA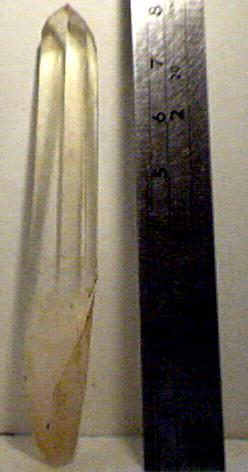 A long pencil-size clear crystal at 2.75 inches was found in a tunnel of a lost mine a few miles NE of Sawmill Peak, 5 miles NE of Paradise, Butte County, California, USA. It echos a lovely harmonic "ting" when it comes in contact with another crystal or solid object. Other crystals of this color and quality were found there, however, none quite as long as this one.

Garnet variety Spessartine on Schorl, Audrey Lynn Mine, Riverside Co., Collector Phil Osborn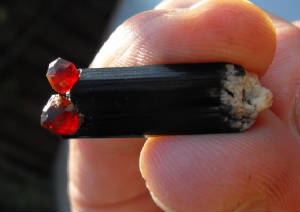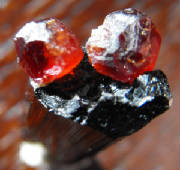 Contact Us Order ô¿ô.. CLICK HERE